COLORGUARD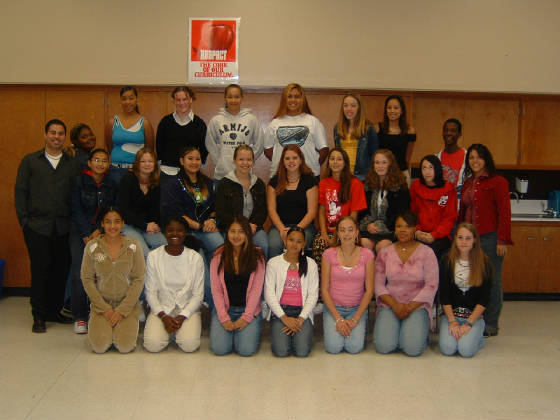 The Colorguard can be seen everyday during zero period practicing their elaborate moves incorporating many styles of dance, rifle, saber, and flag work in preparation for street and winterguard competitions. Their determination and dedication to do their absolute best and represent Armijo High School with Pride have taken them far.
In just a year, Marcus Mills and Jamie Roman transformed Armijo High School's Cologuard from a mediocre group to an advanced level, award winning, competing unit that people recognize on the street and in winterguard. As instructors, they plan on continuing the excellence of the Colorguard.
Meet the Instructors

Marcus Mills - Band & Colorguard Instructor

Marcus Mills is a 2002 graduate from Armijo High School. As a 4 year band member at Armijo, he was very involved in keeping Armijo's Music department successful. During his last 3 years at Armijo, he was the saxophone section leader in the Wind Ensemble. His junior and senior years, he held the position of band council president and the coveted leadership role of drum major. As a drum major, he was selected as an "All-Star Drum Major" by the USA leadership camp staff and was invited to march in the Paris New Year's Day parade. He was the ID unit instructor for 2 ½ years and was an active member of the winterguard program. Now, a full time college student at CSU, Sacramento, he is a saxophone performance and music education major exited to be a high school band director one day. He was the principal saxophonist in the CSUS Symphonic Wind Ensemble, which returned from a showcase performance in New York's own Carnegie Hall in April of 2004 and continues to play with them. He is a certified adjudicator with the Northern California Band Association, and judges competitions for them on a regular basis. In addition to his busy school schedule, he teaches private lessons on saxophone. At Armijo he is responsible for teaching the colorguard and instructing the music ensembles. He is very excited to be back teaching music and colorguard at his Alma Mater and is looking forward to much success to come.

Colorguard Achievements
Vintage Band Review – 1st place
Petaluma Band Review – 2nd place
Tournament Of Champions (TOC) – 1st place